Introduction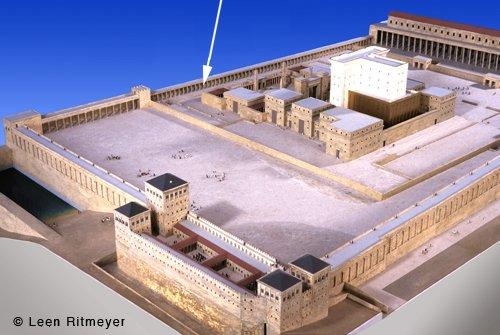 An architect's impression of the temple indicating the location of Solomon's porch where the believers met (v 12).
Ananias dies trying to deceive the apostles. The Jewish authorities cause trouble.

Questions
1. What did Peter accuse Ananias and Sapphira of conceiving in their hearts?
v 4 While you kept it, didn't it remain your own? After it was sold, wasn't it in your power? How is it that you have conceived this thing in your heart? You haven't lied to men, but to God."
2. What was the response of Peter and the apostles to the high priest ordering them to stop preaching?
v 29  But Peter and the apostles answered, "We must obey God rather than men.
3. What punishment did the apostles receive this time?
v 40 ... they beat them and commanded them not to speak in the name of Jesus, and let them go.

Summary Points
v 1 to 11 Ananias and Sapphira tell a lie about how much they sold some land for. Peter accuses them of lying to God and asks why Satan has filled their heart. They both die because they think they can deceive God
v 12 to 16 The apostles do many miracles and more people become believers
v 17 to 20  The apostles are arrested and imprisoned again, because of their message. An angel brings them out of prison and tells them to continue preaching
v 21 to 26 The religious rulers are very frustrated that they can't stop the preaching and re-arrest the apostles
v 27 to 32 Again Peter responds to their order to stop preaching by pointing out that they should obey God rather than men and then reminds them of some first-century Christian beliefs
v 33 to 42 The religious leaders want to kill the apostles, but a Pharisee named Gamaliel recommends restraint. The apostles continue teaching and preaching after further threatenings