Introduction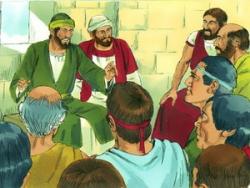 Paul and Barnabas preach in Iconium (v 1).
They continue to preach despite opposition from the Jews.

Questions
1. What did the Jews from Antioch and Iconium persuade the crowds at Lystra to do to Paul?
v 19 ... they stoned Paul, and dragged him out of the city, supposing that he was dead.
2. On their return, what did the apostles do for each of the assemblies at Lystra, Iconium and Antioch?
v 22 and 23 strengthening the souls of the disciples, exhorting them to continue in the faith, and that through many afflictions we must enter into God's Kingdom. When they had appointed elders for them in every assembly ...
In the region of Galatia in what is now southern Turkey

Summary Points
v 1 to 7 Many Jews and Gentiles in Iconium are converted, but there is violent opposition from both unbelieving Jews and Gentiles, so Paul and Barnabas move on
v 8 to 18  In Lystra, Paul heals a crippled man, but the people mistakenly want to treat Paul and Barnabas as gods. Paul appeals to his hearers to turn to the only living God who created everything. 
v 19 to 23 Jews from Antioch and Iconium persuade the crowd to stone Paul, who is left for dead, but he makes a miraculous recovery. The two apostles move on to preach in Derbe
v 24 to 28 Paul and Barnabas return to Antioch in Syria via Pisidia and Pamphylia