Introduction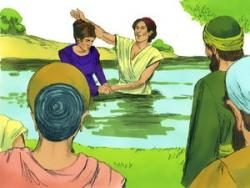 Paul and Silas go to preach in Philippi. Lydia and her household are baptised (v 15).
A jailer and his household are baptised after Paul and Silas end up in his prison.

Questions
1. What did Lydia say to the apostles after she was baptised?
v 15 When she and her household were baptised, she begged us, saying, "If you have judged me to be faithful to the Lord, come into my house and stay." So she persuaded us.
2. Why did the masters of the fortune teller drag Paul and Silas to the authorities?
v 19 But when her masters saw that the hope of their gain was gone, ...
3. What did the jailer and his family do after Paul and Silas had preached God's word to them?
v 33 He took them the same hour of the night and washed their stripes, and was immediately baptised, he and all his household. 

Summary Points
v 1 to 12 Paul circumcises Timothy to prevent problems from the Jews. The number of believers grows. Paul is asked in a vision to visit Macedonia and so comes to Philippi
v 13 to 15 Lydia and her household in Philippi are converted and baptised
v 16 to 24 Paul cures a mentally disturbed slave girl, but her owners are angry and contrive to get the apostles imprisoned
v 25 to 34 Paul and Silas, miraculously released from their prison chains, do not escape, but convert and baptise the jailer and his family
v 35 to 40 On being told they can be released from prison, Paul insists that the magistrates come and fetch them out as they are Romans