Introduction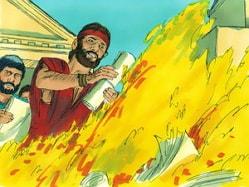 Paul preaches in Ephesus. Books on magical arts are burnt when their owners become believers (v 19).
Paul then causes a riot when his preaching upsets the local silversmiths.

Questions
1. What did Paul preach for three months in the Ephesian synagogue?
v 8 He entered into the synagogue and spoke boldly for a period of three months, reasoning and persuading about the things concerning God's Kingdom.
2. What did they call the Christians' beliefs in Ephesus at that time?
v 9 ... speaking evil of the Way ...
and v 23 ... there arose no small disturbance concerning the Way.
3. What had Paul persuaded people throughout Asia that so upset the Ephesian metalworkers?
v 26  ... they are no gods that are made with hands.  

Summary Points
v 1 to 10 Paul arrives at Ephesus and meets disciples who have only been baptised into John's baptism. They are instructed by Paul, who re-baptises them in the name of Jesus. Paul tells his hearers about God's Kingdom. When opposition increases, Paul moves to the school of Tyrannus and preaches to all who will listen
v 11 to 20 Jewish exorcists trying to cure a man by using the name of Jesus fraudulently are overpowered by him, causing many to believe. Many of those who practise magical arts burn their books
v 21 to 41 The whole of Ephesus is in uproar as pagan craftsmen see their livelihood threatened by the gospel message. The town clerk then calms the multitude and dismisses the assembly