Introduction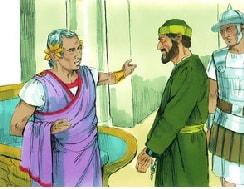 Paul appears before the new Roman governor Festus (v 6).
Paul asks to be tried before Caesar and Festus agrees. Festus consults with King Agrippa over what charge to lay against Paul.

Questions
1. Why did the high priest and the Jews want Paul to be taken to Jerusalem?
v 2 and 3 Then the high priest and the principal men of the Jews informed him against Paul, and they begged him, asking a favour against him, that he would summon him to Jerusalem; plotting to kill him on the way.
2. What was Festus' compromise solution to the lack of evidence, and wanting to do the Jews a favour?
v 9 But Festus, ... said, "Are you willing to go up to Jerusalem, and be judged by me there concerning these things?"
3. Why did Festus ask Agrippa to hear the case against Paul?
v 26 and 27 of whom I have no certain thing to write to my lord ... that, after examination, I may have something to write.

Summary Points
v 1 to 5 Festus goes to Jerusalem and the Jews ask Festus to fetch Paul intending to kill him on the way. Festus declines and tells them to come to Caesarea
v 6 to 12 When the Jews come, they have no real evidence and Paul claims he is innocent. Paul declines a hearing in Jerusalem, and appeals to Caesar
v 13 to 27 When Festus is later visited by King Agrippa, he informs him about Paul. He tells him that the Jews accuse Paul of believing that Jesus has been raised from the dead. He asks for help in understanding Paul's case so that he can specify the charges against him