Introduction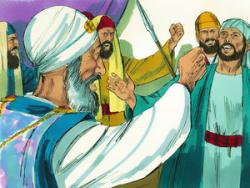 Stephen annoys the Jews by summarising their rebellious history (v 2).
They then stone him to death.

Questions
1. What did God tell Abraham about the future of his offspring?
v 5 and 6 ... He promised that he would give it [the promised land] to him for a possession, and to his offspring after him, ... God spoke in this way: that his offspring would live as aliens in a strange land, and that they would be enslaved and mistreated for four hundred years.
  2. How did God help Joseph when he was sold into Egypt?
v 9 and 10 ... God was with him, and delivered him out of all his afflictions, and gave him favour and wisdom before Pharaoh, king of Egypt. ...
3. What did the people say to Aaron when they thought that Moses had abandoned them?
v 40 saying to Aaron, 'Make us gods that will go before us, for as for this Moses, who led us out of the land of Egypt, we don't know what has become of him.'

Summary Points
v 1 to 43 Stephen replies to the high priest by showing that many of God's dealings with the Jews didn't involve the temple and were very often outside the land of Israel:

v 2 to 8 God appeared to Abraham in Mesopotamia. After living in Haran, Abraham moved to the land of Israel
v 9 to 19 First Joseph and then Jacob's whole family ended up in Egypt. They were eventually mistreated and became slaves
v 20 to 43 Moses tried unsuccessfully to deliver them from slavery. God appeared to Moses in the wilderness of Mount Sinai and worked with him to deliver them. They soon, however rejected Moses and worshipped idols

v 44 to 50 Stephen then comments that God doesn't live in man-made structures like Solomon's temple
v 51 to 53 He says they are just like their fathers who repeatedly persecuted God's prophets, culminating in their murder of Christ
v 54 to 60 Stephen, before being stoned, sees Jesus in heaven standing at the right hand of God