Introduction
The great flood.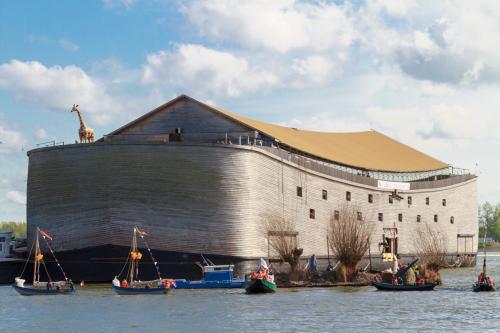 A full size replica of Noah's Ark built in Dordrecht, the Netherlands.

Questions
1. Why did God save Noah and his family from the flood?
v 1 ... I have seen your righteousness before me in this generation.
2. How long did Noah have to wait in the ship before the flood started?
v 10 After the seven days, the floodwaters came on the earth.
3.  Where did the floodwater come from?
v 11 and 12 ... all the fountains of the great deep burst open, and the sky's windows opened. It rained on the earth forty days and forty nights.

Summary Points
v 1 to 4 God invites Noah to come into the ship with his family and seven pairs of clean animals and birds
v 5 to 9 Noah is obedient to God and goes into the ship
v 10 to 20 After seven days the fountains of the deep burst open and it rains for forty days and nights. The ship floats as the flood waters rise to cover the mountains to a depth of 15 cubits (7 metres or 22 feet)
v 21 to 23 All land creatures die except those in the ship with Noah. The waters flood the earth for 150 days