Introduction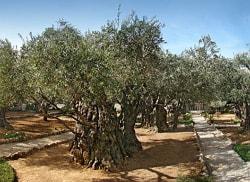 Gethsemane, where Jesus went to pray and was arrested (v 32).
Events which lead up to the arrest of Jesus in Gethsemane. Jesus is then given a mock trial by the religious authorities.

Questions
1. What did Jesus say would have been better for the one who would betray him?
v 21 … "It would be better for that man if he had not been born."
 2. During the Passover meal, what did Jesus say the bread represents?
  v 22 As they were eating, Jesus took bread, and when he had blessed, he broke it, and gave to them, and said, "Take, eat. This is my body."
3. When did Jesus say he would drink wine again?
v 25 … I will no more drink of the fruit of the vine, until that day when I drink it anew in God's Kingdom. 

Summary Points
v 1 to 11 At Bethany, Jesus is anointed after which Judas Iscariot decides to betray him to the religious leaders
v 12 to 25 The next day Jesus sends two disciples to prepare the Passover. Later on Jesus celebrates the "last supper" with his disciples establishing a new covenant
v 26 to 42 On the way to Gethsemane, Jesus warns his disciples that they will stumble that night. His disciples sleep as he prays that God's will may be done in his forthcoming death
v 43 to 52 After Jesus is betrayed by Judas and arrested, the disciples flee
v 53 to 59 Jesus is taken to the court of the high priest where witnesses against him don't agree
v 60 to 72 Jesus is accused of blasphemy when he agrees that he is the Christ. He is condemned to death. Peter denies he knows him