The destruction of Jerusalem in 70 AD was a very significant event in Jewish history.
The siege of Jerusalem was a decisive event of the first war between the Jews and Rome. It is dramatically portrayed in the picture by Scottish painter David Roberts (1796-1864). Future Roman Emperor Titus with Tiberius Julius Alexander as his second-in-command, conquered the city. Jerusalem had been controlled by Judean rebel factions since AD 66 following riots in Jerusalem when the Judean Free Government was formed in Jerusalem.
The siege ended on 30 August 70 AD when the second temple was burnt and destroyed and the Romans entered and sacked the lower city. The destruction of both the first and second temples is still mourned annually as the Jewish fast Tisha B'Av.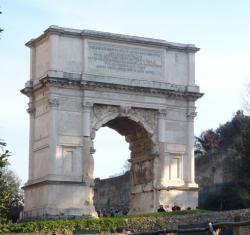 The Arch of Titus in Rome was built to celebrate the Roman sack of Jerusalem and the temple. The city was finally conquered on 8 September 70 AD.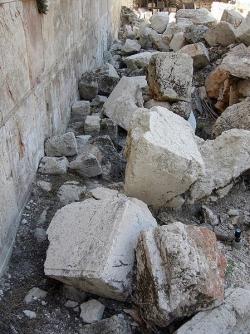 Stones from the wall of the second temple, knocked onto the street below by Roman battering rams on the 9th of Av 70 AD, can be seen today. This first century street is located at the base of the supporting wall where the western and southern walls meet. This is a fulfillment of Jesus Christ's words "the days will come, in which there will not be left here one stone on another that will not be thrown down" (Luke 21 v 6).