Introduction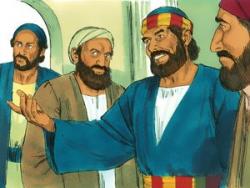 Peter tells the early church about the conversion of Cornelius - a non-Jew (v 4).
Non- Jews are then accepted into the early church.

Questions
1. What was the reaction of those who initially contended with Peter, when they heard his story?
v 18 When they heard these things, they held their peace, and glorified God, saying, "Then God has also granted to the Gentiles repentance to life!"
2. In what place were the disciples first called Christians?
v 26 ... The disciples were first called Christians in Antioch.
3. What was the reaction of the church in Antioch when they heard of the famine in Judea?
v 29 As any of the disciples had plenty, each determined to send relief to the brothers who lived in Judea; 

Summary Points
v 1 to 18 Peter is initially criticised for preaching to Gentiles (non-Jews), but the believers glorify God when they hear the full story of the conversion of Cornelius (Acts 10)
v 19 to 24 Oppression makes believers travel further afield to preach, mainly to Jews. Barnabas is sent to help the growing church in Antioch
v 25 to 30 Barnabas finds Saul to help preach in Antioch. Then a worldwide famine is prophesied and believers show compassion by sending relief to their fellow believers in Judea