Introduction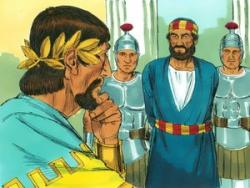 After the apostle James is killed, the apostle Peter is arrested (v 3).
Peter then miraculously escapes.

Questions
1. What did Herod do in an attempt to oppress the early believers?
v 2 and 3 He killed James, the brother of John, with the sword. When he saw that it pleased the Jews, he proceeded to seize Peter also. ...
2. Whose house did Peter go to when he was released from prison, and what were they doing?
v 12 ...  he came to the house of Mary, the mother of John who was called Mark, where many were gathered together and were praying.
3. What happened to the prison guards who had lost their prisoner?
v 19 When Herod had sought for him, and didn't find him, he examined the guards, then commanded that they should be put to death. ...

Summary Points
v 1 to 6  King Herod kills James, the brother of John, and to please the Jews, he also has Peter imprisoned with the intention of making him a public spectacle. His fellow believers pray for his release
v 7 to 17 An angel rescues Peter from prison. He goes to the house of Mary where they are praying. They find it difficult to believe their prayers for his release have been answered
v 18 and 19 Herod condemns the prison guards to death for losing their prisoner
v 20 to 23 Herod, who is basking in the flattery of the people calling him a god, is struck down by an angel and dies
v 24 and 25 Barnabas and Saul return *to Jerusalem taking John Mark with them [* other Bible versions have "from"]