Introduction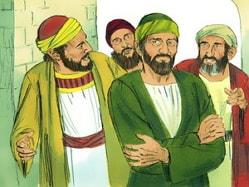 Paul visits several groups of believers on his way to Jerusalem ( v 4, 7 and 8).
Paul upsets the Jews when he goes into the temple at Jerusalem and is arrested.

Questions
1. What was Paul prepared to suffer in Jerusalem?
v 13 Then Paul answered, "... For I am ready not only to be bound, but also to die at Jerusalem for the name of the Lord Jesus."
2. Why did James and the elders advise Paul to demonstrate his allegiance to the law of Moses by taking a vow and shaving his head?
v 24  Take them and purify yourself with them, and pay their expenses for them, that they may shave their heads. Then all will know that there is no truth in the things that they have been informed about you, but that you yourself also walk keeping the law.
3. What three pieces of false information about Paul are mentioned in this chapter?
v 21 They have been informed about you, that you teach all the Jews who are amongst the Gentiles to forsake Moses, telling them not to circumcise their children and not to walk after the customs.
v 28 ... This is the man who teaches all men everywhere against the people, and the law, and this place. Moreover, he also brought Greeks into the temple, and has defiled this holy place!"
and v 38 Aren't you then the Egyptian, who before these days stirred up to sedition and led out into the wilderness the four thousand men of the Assassins?"

Summary Points
v 1 to 16 Paul continues his journey to Jerusalem spending time with believers at Tyre, Ptolemais and Caesarea. He is warned that the Jews at Jerusalem will arrest him and hand him over to the Gentiles. He is prepared to die if that is God's will for him
v 17 to 26 Paul reports to the elders at Jerusalem his success in preaching to Gentiles. Because of the stubborn attitude of the Jews, the apostles advise him to show them that he himself keeps the law. He agrees to join and support four men who are keeping the rituals of the law of Moses
v 27 to 34 When Paul has almost completed the rituals, the Jews cause a riot when they see Paul in the temple and think he brought an Ephesian into the temple. Paul's life is saved by Roman soldiers who arrest him after rescuing him from the mob trying to kill him
v 35 to 40 When the commanding officer clarifies who Paul is, he is allowed to speak to the people