Introduction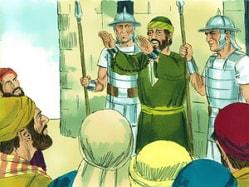 The commander allows Paul to speak to the Jews (v 1).
They turn on him and he is taken to the barracks. The next day he is taken before the Jewish leaders.

Questions
1. How does Paul describe his early life?
v 3 "I am indeed a Jew, born in Tarsus of Cilicia, but brought up in this city at the feet of Gamaliel, instructed according to the strict tradition of the law of our fathers, being zealous for God, even as you all are today."
2. What did Ananias tell Paul that God had appointed him for?
v 14 and 15 He said, 'The God of our fathers has appointed you to know his will, and to see the Righteous One, and to hear a voice from his mouth. For you will be a witness for him to all men of what you have seen and heard.
3. What was it that Jesus said to him that so annoyed the Jews?
v 21 "He said to me, 'Depart, for I will send you out far from here to the Gentiles.'"

Summary Points
v 1 to 21 Paul speaks to the crowd (who tried to kill him - chapter 21) and defends his preaching, explaining that he was once a zealous Jew violently opposed to those who followed Christ. He tells them about his life-changing conversion on the road to Damascus. He then relates his role in Stephen's death and his commision from Jesus to preach to Gentiles (non-Jews)
v 22 and 23 The crowd listens to Paul until he mentions preaching to non-Jews. They become violent and want him killed
v 24 to 30 He is taken into the barracks by the Roman soldiers, but avoids being scourged by telling the centurion that he is a Roman citizen. On the next day he is brought before the Jewish council