Introduction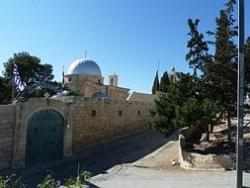 A church in Bethany, where Jesus visited (v 1).
Jesus rides into Jerusalem on a donkey. He clears the traders from the temple and has his authority questioned.

Questions
1.  What did Jesus say the Jews had made the temple into?
v 17 ... But you have made it a den of robbers!"
2.  Under what circumstances will God not forgive us?
v 26 But if you do not forgive, neither will your Father in heaven forgive your transgressions."
3.  What would be the consequence for the Jewish leaders in saying that the baptism of John was from heaven?
v 31 ... If we should say, 'From heaven;' he will say, 'Why then did you not believe him?'

Summary Points
v 1 to 11 People enthusiastically welcome Jesus as he enters Jerusalem. They link Jesus to the promises made to David
12 to 19 Jesus curses a fig tree. Jesus throws the traders out of the temple because it should have been a house of prayer and quotes

Isaiah 56 v 7.

He says they have made it a den of robbers and quotes

Jeremiah 7 v 11

v 20 to 26 The disciples notice the fig tree has withered. Jesus then teaches the importance of faith and forgiveness
v 27 to 33 Jesus' authority is challenged by the Jewish leaders. He, in turn, challenges them with a question about the baptism of John