Introduction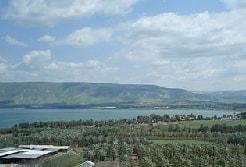 The area south of the Sea of Galilee, where Jesus passed through (v 1).
More guidance from Jesus on how we should live.

Questions
1.  What does Jesus say about marriage?
v 7 and 8 For this cause a man will leave his father and mother, and will join to his wife, and the two will become one flesh, so that they are no longer two, but one flesh. What therefore God has joined together, let no man separate."
2. What does Jesus say makes it difficult to enter God's Kingdom?
v 23 ... "How difficult it is for those who have riches to enter into God's Kingdom!"
3. Following the ambitious request of James and John, what does Jesus say we should do if we want to be great?
v 43 ... but whoever wants to become great amongst you shall be your servant.

Summary Points
v 1 to 12 When Jewish leaders test Jesus about divorce, he tells them that the principles of marriage were laid out at creation
v 13 to 16 Jesus teaches that we must have a child-like spirit to inherit the Kingdom of God
v 17 to 31 Jesus shows the danger of riches to someone asking how to inherit eternal life
v 32 to 34 Jesus tells his disciples that he is going to Jerusalem to die
v 35 to 45 James and John want to have positions of status in God's Kingdom, making the other disciples jealous. Jesus says that greatness comes by service
v 46 to 52 Coming out of the city of Jericho, Jesus cures blind Bartimaeus. Bartimaeus calls Jesus son of David