Introduction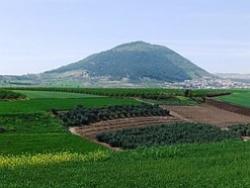 Mount Tabor, possibly where the vision took place (v 2).
The disciples are encouraged to listen to Jesus Christ by seeing him in glory.  He heals an epileptic and teaches his disciples humility.

Questions
1. What did the voice out of the cloud tell the disciples about Jesus?
v 7 A cloud came, overshadowing them, and a voice came out of the cloud, "This is my beloved Son. Listen to him."
2.  What example did Jesus use, to illustrate that it is better to be humble than to seek high status?
v 35 and 36  ... "If any man wants to be first, he shall be last of all, and servant of all." He took a little child, and set him in the middle of them. ...
3. How did Jesus reply to John's question about someone healing using Jesus' name?
v 39 and 40 ... Jesus said, "Don't  forbid  him, ... For whoever is not against us is on our side.

Summary Points
v 1 to 13 Peter, James and John see Jesus in glory talking with Moses and Elijah. God tells the disciples to listen to Jesus because he is his Son. The disciples question Jesus about Elijah
v 14 to 29 Jesus emphasises the importance of belief when he heals an epileptic boy
v 30 to 32 Jesus predicts his death and resurrection
v 33 to 37 After the disciples had argued about who was the greatest, Jesus uses a child to teach them humility
v 38 to 41 Jesus tells his disciples that there are others who follow him
v 42 to 50  Jesus says that we must cut things out of our lives if they cause us (or others) to stumble. He warns that we will be destroyed or end up in Gehenna if we don't heed his words. He is using language we see in

Isaiah 66 v 24