Introduction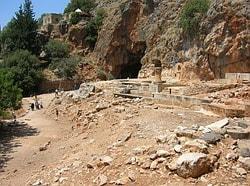 The site of Caesarea Philippi, where Peter made his confession (v 27).
By feeding 4,000 people with a few loaves and fishes, Jesus gives more evidence that he has God's power.

Questions
1. Why did Jesus feed the multitude?
  v 2 "I have compassion on the multitude, because they have stayed with me now three days, and have nothing to eat.
2. Why did the Pharisees question Jesus?
v 11 The Pharisees came out and began to question him, seeking from him a sign from heaven, and testing him.
3. What did Jesus call Peter when he tried to prevent Jesus from saying that he would be killed?
v 33 ... "Get behind me, Satan! ...

Summary Points
v 1 to 12 Jesus shows compassion on the crowds who have stayed with him for three days, by feeding 4,000 of them
v 13 to 21 Jesus teaches his disciples to look more closely at the miracles of loaves and fishes to see a deeper meaning explained in

Matthew 16 v 11 and 12

v 22 to 26 Jesus restores sight to a blind man in a two-stage miracle
v 27 to 33 Peter confesses that Jesus is the "Christ". Jesus explains that he must die and be raised from the dead. Peter is then rebuked for not accepting Jesus' message
v 34 to 38 Jesus teaches that following him means denying ourselves