Introduction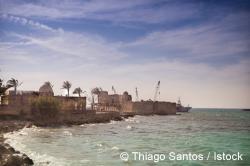 Sidon, in the region where Jesus went (v 24).
Jesus explains we should be careful about who we listen to, and says what determines what kind of people we are.

Questions
1. What does Jesus accuse the Pharisees and scribes of doing with the commandment of God?
v 8 and 9 "For you set aside the commandment of God, and hold tightly to the tradition of men—the washing of pitchers and cups, and you do many other such things." He said to them, "Full well do you reject the commandment of God, that you may keep your tradition.
2. What things does Jesus say come "from within, out of the hearts of men"?
v 21 and 22 ... evil thoughts, adulteries, sexual sins, murders, thefts,  covetings, wickedness, deceit, lustful desires, an evil eye, blasphemy, pride, and foolishness. 
The distance from Tyre to the Sea of Galilee is approximately 56 Km (35 miles).

Summary Points
v 1 to 13 The Pharisees try to belittle Jesus because he doesn't keep their Jewish traditions. Jesus tells them (and us) to regard  God's message in the Old Testament as more important than traditions
v 14 to 23 Jesus uses this occasion to teach that what is important is what goes on in a person's mind. He warns that we are naturally inclined to bad ways
v 24 to 37 After she shows her humility and great faith, Jesus heals a Greek woman's daughter and then a deaf man who has an impediment in his speech