Introduction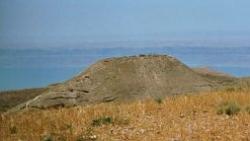 Machaerus, near the Dead Sea, Herod's fortified hilltop palace where John the Baptiser would have been held (v 17).
Jesus' message is opposed by many.

Questions
1. Why were the people astonished by Jesus' teaching in the synagogue?
v 2 ...  many hearing him were astonished, saying, "Where did this man get these things?" and, "What is the wisdom that is given to this man, that such mighty works come about by his hands?
2.  What was the disciples' message to the people?
v 12 They went out and preached that people should repent.
3. What was Jesus' attitude to the multitude?
v 34 Jesus came out, saw a great multitude, and he had compassion on them, because they were like sheep without a shepherd, and he began to teach them many things.

Summary Points
v 1 to 13 The people of Jesus' own town do not believe in him. Jesus sends out his twelve apostles to preach repentance and to heal those who are ill
v 14 to 29 King Herod thinks that Jesus is John the Baptiser risen from the dead. Herod had previously put John to death
v 30 to 44  Such large crowds of people follow Jesus, that he needs to feed 5,000 men (plus women and children). He does this with just five loaves and two fishes
v 45 and 46 Jesus sends his disciples and the crowds away and he goes into a mountain to pray
v 47 to 52 After the disciples leave by boat, a strong headwind blows up. Jesus walks on the water and calms the wind
v 53 to 56 When Jesus and the disciples reach the other side of the lake, crowds of ill people come to him and he heals them