Introduction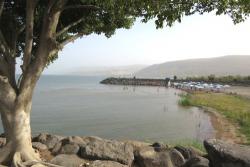 The Sea of Galilee where Jesus taught (v 1).
Jesus points out various ways we can react to his message in the parable of the sower. He shows how we should put faith into action in our lives.

Questions
1. In the first parable, what does the seed represent?
v 14 The farmer sows the word.
2. What sort of people is represented by the seed sown among thorns?
v 18 and 19 Others are those who are sown amongst the thorns. These are those who have heard the word, and the cares of this age, and the deceitfulness of riches, and the lusts of other things entering in choke the word, and it becomes unfruitful.
3. What was the disciples' problem with the storm, and what, did Jesus say, had caused them to feel that way?
v 40 He said to them, "Why are you so afraid? How is it that you have no faith?"

Summary Points
v 1 to 20 A parable (story illustrating a lesson) showing different ways we can react to the message about the coming Kingdom of God

The farmer sows seed in his field
The seeds fall into different types of earth, representing different responses from people
The message is that we should listen to God's word and respond to it

v 21 to 34 More parables showing different aspects of the message of the Kingdom of God

v 21 to 29 The message of the Kingdom of God cannot be hidden and should be listened to
v 30 to 34 The message of the Kingdom is like a small seed that develops into something as big as a tree

v 35 to 41 Jesus stills a raging sea and questions the disciples' lack of faith
Although Mark 5 is not part of the Plan Daily Schedule a Daily chapter page is available.