Introduction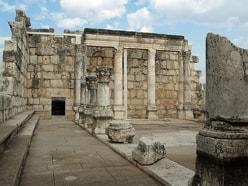 Ruins of a synagogue (v 1).
Jesus' healing and teaching draws crowds from a large area and attracts the attention of the authorities. He says who he considers are his family.

Questions
1 Why was Jesus angry with the Pharisees?
v 5 When he had looked around at them with anger, being grieved at the hardening of their hearts, ...
2. Why did Jesus ask the disciples to keep a boat ready for his use?
v 9 He spoke to his disciples that a little boat should stay near him because of the crowd, so that they wouldn't press on him.
3.  What sin did Jesus say could not be forgiven?
v 29 but whoever may blaspheme against the Holy Spirit never has forgiveness ...

Summary Points
v 1 to 6 The Pharisees and Herodians plot how they can kill Jesus, after he heals a man with a withered hand showing his superiority over ritual Sabbath-keeping
v 7 to 21 Jesus' ability to heal people attracts large crowds. Jesus chooses twelve apostles to help him with the work as the crowds following him increase.
v 22 to 30 The scribes say Jesus heals by the prince of demons, but Jesus warns them that by refusing to acknowledge the power of the Holy Spirit they are in grave danger of judgement
v 31 to 35 Jesus' own family try to see him. He says that those who do the will of God are part of his family