Introduction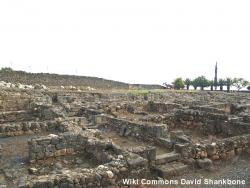 Ruins of houses in Capernaum where Jesus taught (v 1).
Jesus' popularity grows and we see his message appealing to those who know their need of God's love and forgiveness.

Questions
1. What was it that prompted Jesus to forgive the paralysed man's sins?
v 5  Jesus, seeing their faith, said to the paralytic, ...
2. What sort of people does Jesus eat with at Levi's house?
v 16 ... he was eating with the sinners and tax collectors, ... 
3. Who had Jesus come to call?
v 17 "... I came not to call the righteous, but sinners to repentance."

Summary Points
v 1 to 12 Jesus' power to heal is evidence that he has God's authority to forgive sins
v 13 and 14 Jesus calls Levi (Matthew) the tax collector to follow him
v 15 to 17 Jesus is criticised by the scribes and Pharisees for eating with the outcasts and despised people. Jesus responds by saying he has come to call sinners to repentance
v 18 to 20 Jesus says that his disciples can't fast while he is still with them
v 21 and 22 Jesus gives two examples showing that new things can't be incorporated into the old
v 23 to 28 Jesus refers to himself as Son of Man and says the Sabbath was made for the good of humans. So he is lord of the Sabbath