Introduction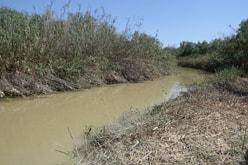 The river Jordan in which John baptised Jesus (v 9).
After his baptism, Jesus starts his teaching and healing. The miracles back up his claim that his message is from God.

Questions
1. What was the purpose of John's baptism?
v 4 John came baptising in the wilderness and preaching the baptism of repentance for forgiveness of sins.
2. What did the people do as they were baptised?
v 5 ... They were baptised by him in the Jordan river, confessing their sins.
3. Why did Jesus rise a long time before dawn and go to a deserted place?
v 35 ... while it was still dark, he rose up and went ... into a deserted place, and prayed there.

Summary Points
v 1 The focus of Mark's message is that Jesus is the Christ and Son of God
v 2 and 3 The Old Testament (

Malachi 3 v 1

and

Isaiah 40 v 3

) foretold the coming of John who would prepare the way for Jesus
v 4 to 8 John, as the forerunner of Jesus, comes baptising in the river Jordan
v 9 to 15 After Jesus is baptised by John, he receives the Spirit. He is then tempted by Satan. Jesus starts his mission to preach the Good News of God's Kingdom
v 16 to 20 Jesus chooses Peter, Andrew, James and John to be his disciples
v 21 to 45 Jesus preaches in the synagogues throughout Galilee. He shows he is no ordinary person by healing those who are ill and by casting out demons