Introduction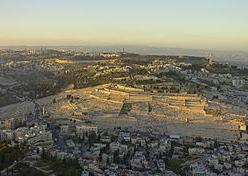 The Mount of Olives, outside Jerusalem - where Jesus ascended to heaven (v 12).
Before ascending into heaven, Jesus promises his followers special powers to help them witness for him.

Questions
1. What did Jesus spend forty days teaching the disciples about?
v 3 ... over a period of forty days, and speaking about God's Kingdom.
2. What promise did the angels give the disciples, when Jesus was taken up?
v 11 ... This Jesus, who was received up from you into the sky, will come back in the same way as you saw him going into the sky."
3. What were the necessary qualifications for a disciple to replace Judas as one of the twelve?
v 21 and 22 ... men ... who have accompanied us all the time that the Lord Jesus went in and out amongst us, beginning from the baptism of John, to the day that he was received up from us ...

Summary Points
v 1 to 5 Over a 40 day period Jesus proves to the apostles he has risen from the dead. He talks to them about the Kingdom of God and promises them special Holy Spirit powers
v 6 to 11 Jesus tells his disciples that God will decide when to restore the kingdom to Israel and that they are now to be his witnesses. They see the ascension of Jesus into heaven and are promised by angels that he will return to the earth
v 12 to 26 The disciples meet regularly and decide that a replacement for Judas Iscariot is needed. After asking the Lord's guidance Matthias is chosen